Summary
The advanced light painting workshop from ZOLAQ ( http://www.zolaq.de/ ) left the same good impression with me as the beginner workshop. This time they split the  group split in half. Jenja shows light blades, laser, fog, working with the environment and image composition. Olaf concentrated on orbs, fire, fireworks and also image composition. Unfortunately everything took longer than planned. They added an additional hour to the workshop but still they left out some stuff they had planed. Nevertheless, I had fund and learned a lot. Even though I was really happy when it was all over because it was quite cold and around 2 AM I didn't feel my feet any more.
Workshop
Introduction
Jenja and Olaf started with an introduction to the different tools. It was shorter than for the beginner workshop. But when crafting your own light tools it's possible to be as complex as you like.
Environment
The closed factory close to Hamburg offers many opportunities to include the rooms in the images. Jenja explained how to get to know a room, experiment with background light and how to plan the shot before starting with more time consuming light objects like this crystal.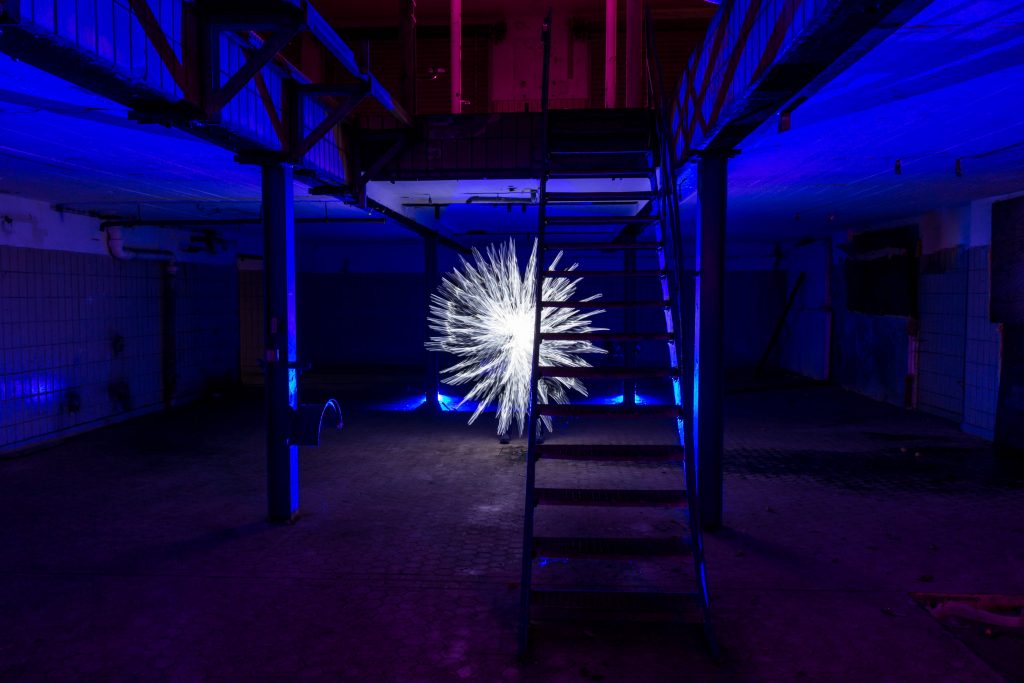 After the two workshops I'm more convinced than ever before that it would be much easier to shoot background and main light objects separately. It's much easier to combine everything in Photoshop than to expose the sensor for half an hour just to notice in the end that the overexposed regions destroy the picture. But professional light painter would never do that. Everything has to be a single shot. I will never understand why they cripple themselves like that.
Fog and laser
After a few difficulties with the fog machine we experiment with the camera settings to get a good shot.
Personally, I think working with fog takes some effort. Fog can be a great element in the final image. But each shot is different because the fog disappears quite fast. If you start with your shot too early you see only a wall of light because the fog is not distributed enough. However, if you start too late, you might not capture what you wanted because the fog is gone before finishing the photo.
Lantern
After we had enough fog shots we climbed under the roof to learn more about image composition, working with the room and including models.
The lantern is a characteristic element for ZOLAQ just like the connection between model and lantern. This is done with a cold cathode lamp. The exposure is relatively long therefore it's possible to use quite dark LED chains of lights as background illumination. Additional accents can be added by short indirect illumination with a colored torch light.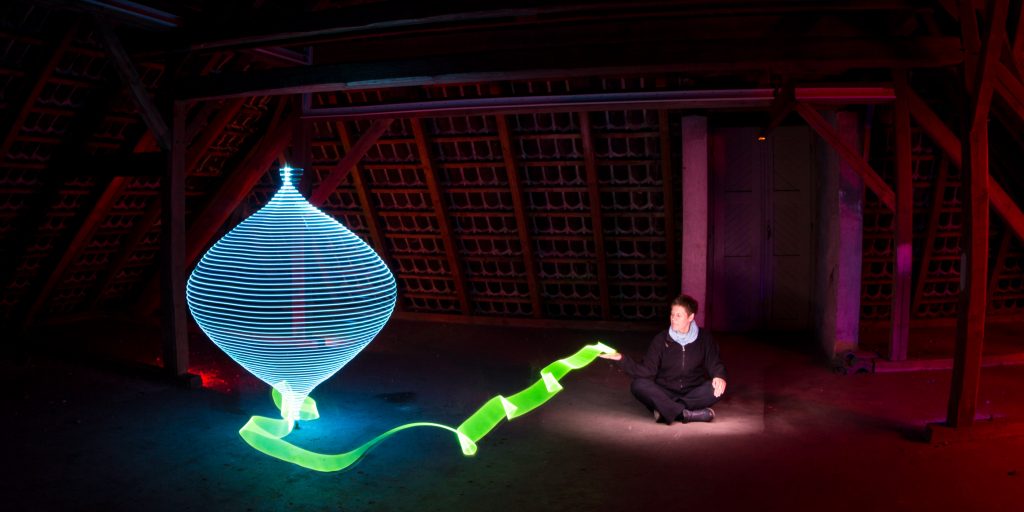 Orbs
For the second part of the workshop we joined Olaf who taught us different techniques to work with orbs and background illumination. The illumination is a combination of permanent chains of lights and defined short bursts with torch lights.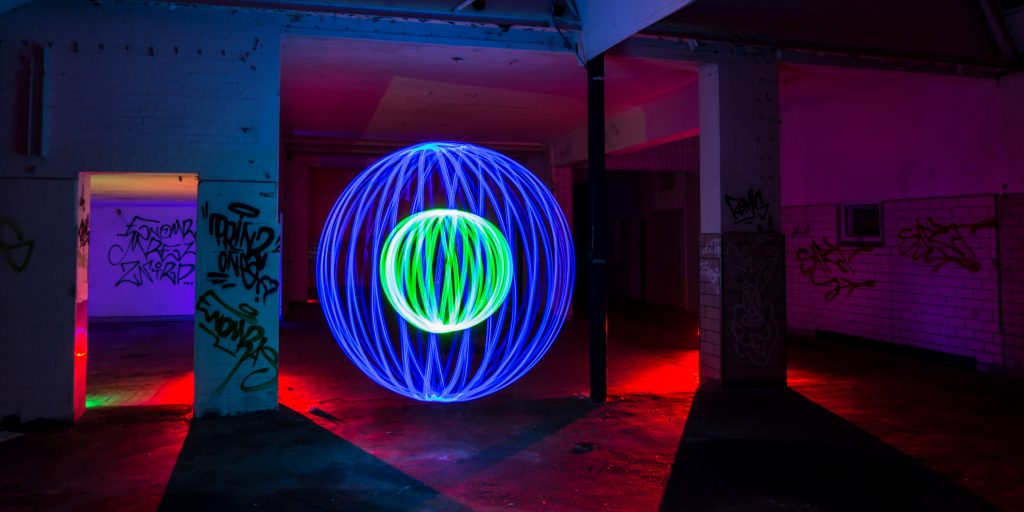 By covering the lens with a strong fiber in a defined rhythm it's possible to create different shapes and colors for orbs.
It takes pretty good timing to get unusual color combinations. Maybe it's also possible to work with a single light source that can be triggered with a remote control to change color or intensity.
Fire
Of course it's also possible to use outdated light sources to form orbs. In this case this outdated light source is a modern fire poi.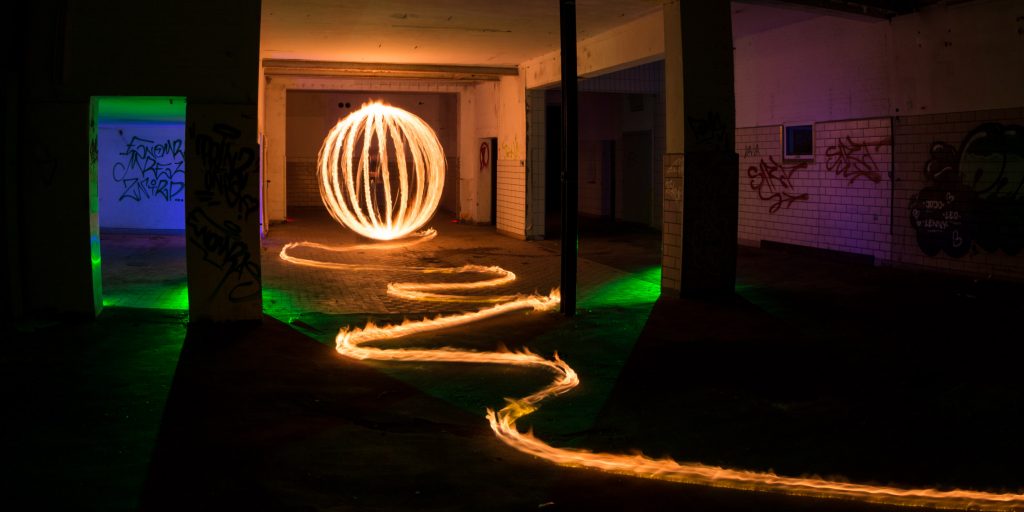 Besides orbs you can also create trails or tunnels. Essentially you can work with fire just like you would with electrical light sources. But it's important to control the movement more exactly because the flames don't have a constant brightness. Furthermore it's necessary to take care that nothing catches fire unintentionally. Fortunately the fluid used for the fire poi burns with a low temperature.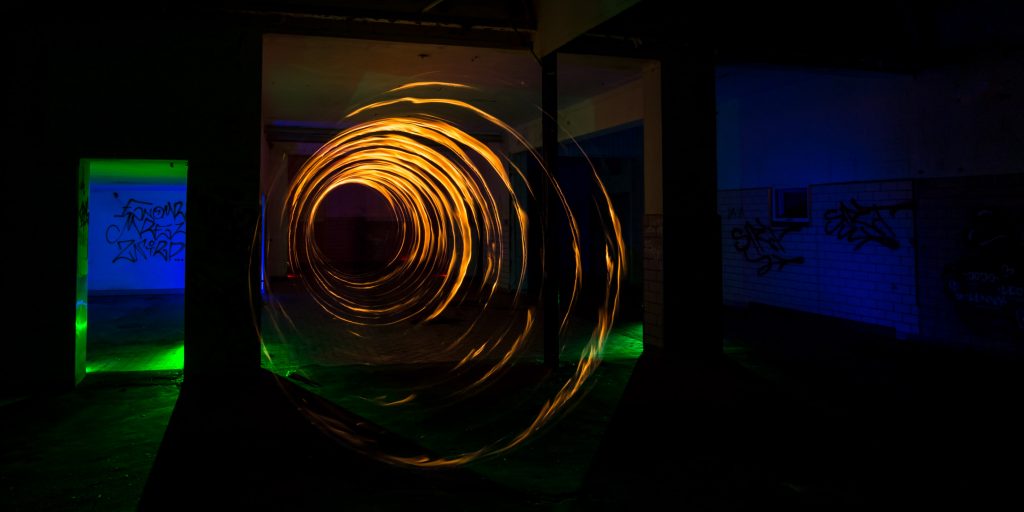 Fireworks
The next step after fire is fireworks. In Germany you have to be careful because fireworks are regulated by law. Strangely enough, steel wool is not regulated and can be burnt as you like – as long as you don't hurt anyone.
Fireworks looks great but it's impossible to predict how exactly it will look before burning it.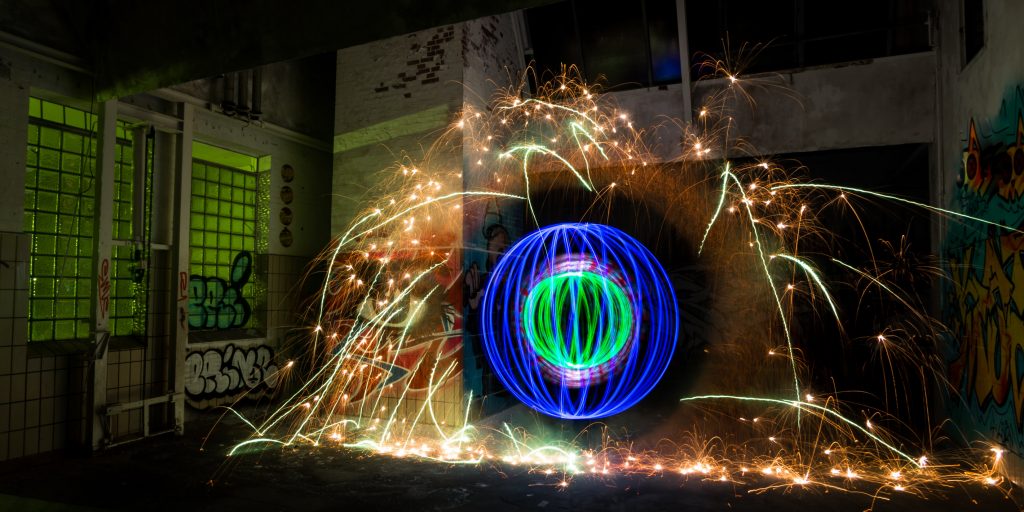 Shooting together
To close the workshop Jenja and Olaf wanted to compose three images. But we only shot two – or at least two scenes.
The first scene covers the only piece of machinery that is left in the whole building complex. We had some difficulties with the fog machine and with the background illumination. But in the end everybody got a shot from the intended perspective.
UFO
For the last image the students decided to build an UFO. In principle it's a simple construction of multiple poles that consumes a lot of space. And in my opinion the result doesn't look that impressive. But of course this also depends on the pole construction, the light sources and the used fireworks. But for the effort that it takes to build this thing it's not very compelling.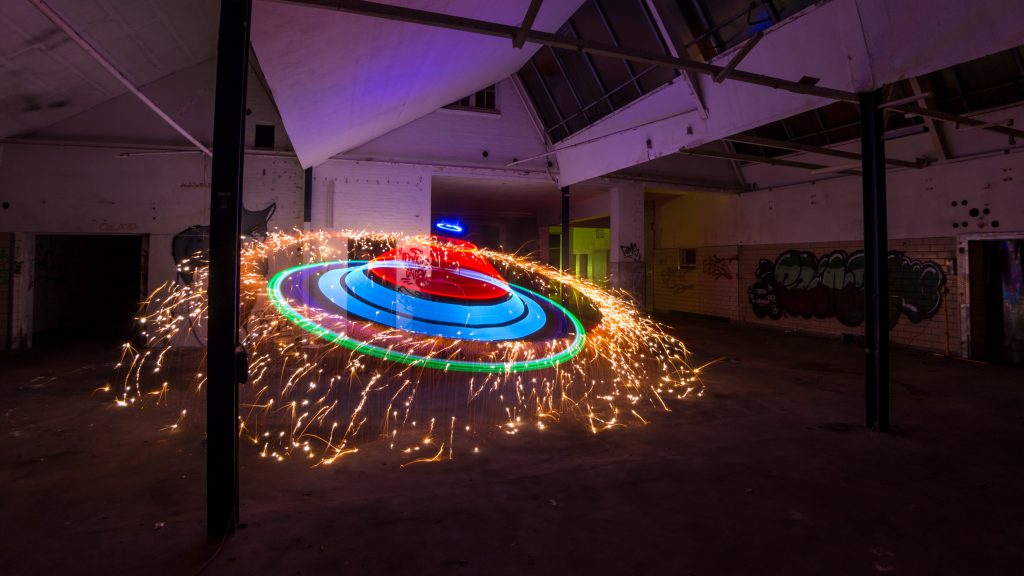 Conclusion
As mentioned in the beginning I liked the workshop. We learned a lot about how Jenja and Olaf work, how they explore the possibilities of a building and how to compose the final image on the set. There was not much to do for us students but this is not criticism. A more active role of the students in front of the camera would have increased the workshop duration significantly.
I think it would be possible to enhance the two days and expand it to a three to four day workshop. The first day for the basics of the tools. The second day contains working in front of the camera with the tools. The third day would be more complex tools and putting everything together to capture the ideas of the students on the sensor. The students would need to work in groups of twos or threes anyway. The fourth day could cover selecting the final image(s) and image processing. But this is just an idea and it would probably be a bit too expensive for most people that book such workshops.
It was a very productive weekend. I learned a lot and I came home with several ideas for images that I want to compose in the next couple of weeks and months. We'll see if I manage to finish at least one of them.